Autumn Season Conductor:
Benjamin Oliver
Benjamin Oliver is a composer, conductor and pianist.
Since 2011 he has conducted the Workers Union Ensemble who have commissioned works for their unique line-up by many young (and older) composers, performed around the UK and recently recorded a work by Matthew Kaner for broadcast on BBC Radio 3. He has also worked with a range of professional, youth, amateur and student ensembles and orchestras including London Sinfonietta, Kent County Youth Orchestra and University of Leeds Union Symphony Orchestra. In November 2014 he conducted the premiere of Michael Finnissy's Remembrance Day, performed by students from the University of Southampton alongside members of the London Sinfonietta and Exaudi Vocal Ensemble. In February 2017 he directed 'The Loop Project' which featured Ivo Neame (piano), Jasper Høiby (bass) and Jon Scott (drums) performing alongside the HARTLEY Loop Orchestra.
Benjamin composes, in the main, contemporary instrumental music. More than fifty of his works have been performed and his music has been broadcast on BBC Radio 3. Performers of his music include Yshani Perinpanayagam (piano), London Sinfonietta, BBC Symphony Orchestra, Ensemble Paramirabo (Montreal) and Elizabeth Kenny (theorbo).
Ben is Associate Professor in Composition at the University of Southampton, and lives in Bitterne Park with his family and imaginary dog.
---
Spring Season Conductor:
Chloé van Soeterstède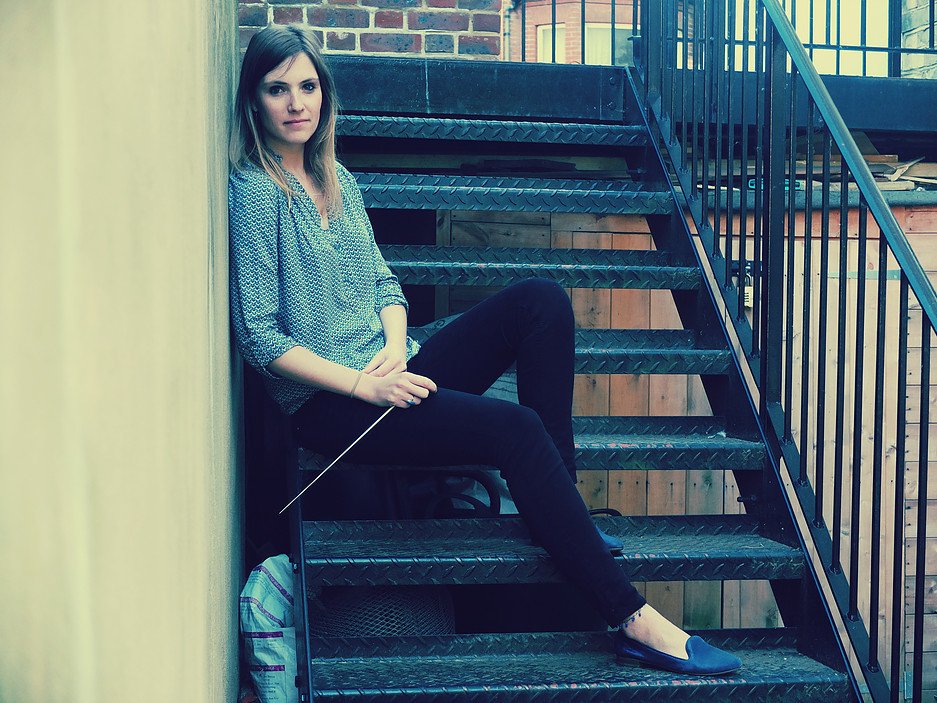 French born conductor Chloé van Soeterstède has served as Assistant Conductor to Sir Mark Elder with the Hallé, John Storgårds and Ben Gernon with the BBC Philharmonic, Vasily Petrenko and Yan Pascal Tortelier with the Royal Liverpool Philharmonic Orchestra. She has been working with François-Xavier Roth in France in 2017 and is re-invited in 2018. Chloé made her debut with Manchester Camerata last June in Mozart, Strauss and Rossini, the European Union Youth Orchestra in Italy in Tchaikovsky Symphony n.4, National Childrens Orchestra of Great Britain where she will be back in summer 2018, Halle Youth Orchestra and King's College London. Last September, Chloé van Soeterstède was selected for the quarter final round in the International Conducting Competition of Besançon (France). She has been selected to conduct in Marin Alsop's masterclass with the BBC Concert Orchestra at the Royal Festival Hall (London) in February 2018.
Future engagements include working with members of Les Siècles orchestra at the Cité de la Musique in Soisson in a Debussy programme with Julie Depardieu, the Presidential Symphony Orchestra of North Cyprus, Orchestre National de Lille, Holland Park Opera and premiering Barry Seaman's opera Mirabai. In May, Chloé will co-produce a CD with Orchestre Victor Hugo Franche Comté and mezzo-soprano Karine Deshayes. Since September 2017, she is Artistic Director and Principal Conductor of the Greater Manchester Strings Youth Orchestra.
In 2012, Chloé founded Arch Sinfonia , a vibrant London-based chamber orchestra renowned for its boundless energy made of committed chamber music mindset players. Arch Sinfonia has of a wide range of repertoire, aiming also to create connections between artistsand audience.
As a viola player, Chloé van Soeterstède performed with the European Union Youth Orchestra, the Pacific Music Festival, Bournemouth Symphony Orchestra and Aurora Orchestra. She also performed at the Royal Opera House (quintet) and with Deva Ensemble (Manchester Camerata soloists). In 2012-2016, she gave recitals at the Wigmore hall with her string quartet as part of the Pro-Corda quartet course and at the Royal Academy of Music fellowship.
Chloé van Soeterstède studied conducting at the Royal Northern College of Music (2015-2017) with prof. Clark Rundell and Mark Heron where she was awarded the Kennedy scholarship and was also supported by the Derek Hill Foundation. Since 2014, she has had masterclasses with Juanjo Mena, Marin Alsop, Vasily Petrenko, Sir Mark Elder, Jorma Panula, Nicolas Pasquet, Leonid Grin, Paavo Jarvi and Neeme Jarvi.
Chloé is officially mentored by Leyla Gunes at Intermusica Artist agency.
http://chloevansoeterstede.co.uk/
---
Summer Season Conductor:
Alexander Walker 
Alexander Walker's career has taken him all over the world. In the UK, he has conducted the Royal Philharmonic Orchestra in both concerts and the recording studio, conducting the prestigious Elgar Birthday concert with them in Malvern in 2011. He recently made a highly successful debut with the English Chamber Orchestra at London's Cadogan Hall and he has also conducted the City of London Sinfonia, the BBC Philharmonic (with a concert broadcast on BBC Radio 3) and the New Queens Hall Orchestra in the UK.
In Moscow he is a regular guest conductor with the legendary Russian State Symphony Orchestra, as well as with Symphony Orchestra New Russia (Music Director: Yuri Bashmet), the Russian Philharmonic and Musica Viva, conducting concerts at Moscow's
Tchaikovsky Hall, International Performing Arts Centre and elsewhere. International appearances have included concerts with Prague Philharmonia in the Dvořák Hall of the Rudolfinum, the Belgrade Philharmonic, Belgrade Strings (broadcasting on National Television with them), the Georges Enescu Philharmonic, Bucharest, North Hungarian Symphony Orchestra and Wrocław State Symphony Orchestra. Highlights of recent seasons have included a performance of Britten's War Requiem to mark the 70 years since the invasion of Poland in Lublin, Poland and the first ever production in Turkey of an Opera by Benjamin Britten, conducting The Turn of the Screw for the Istanbul State Opera. He also recently conducted the first production of Julian Grant's new opera Prophet and Loss for Oundle International Festival. His pioneering recordings of orchestral music and music for violin and orchestra by Ignatz Waghalter and first two CDs of symphonies by Havergal Brian on Naxos with the Royal Philharmonic Orchestra and Symphony Orchestra New Russia have won both critical and popular acclaim.
Alexander Walker studied with Ilya Musin at St. Petersburg Conservatoire and has since performed throughout the former Soviet Union where many of his concerts have been broadcast on National television and radio. He was Principal Guest Conductor of the Voronezh State Symphony Orchestra from 1999-2004. He is a regular guest conductor with the Mikkeli and Lappeenranta City Orchestras in Finland, and of the Esbjerg Ensemble and the Vestyjsk Sinfonieorkester in Denmark as well as many orchestras throughout Poland, the Balkans, Turkey and Romania.
He works regularly at the Royal Opera House, Covent Garden, touring with the Royal Ballet to the Bolshoi and Mariinsky Theatres in Russia, throughout the USA including to the Metropolitan Opera and Kennedy Center, as well as to Singapore, Korea, Japan and Turkey. In addition to conducting performances at the Royal Opera House, Covent Garden, has conducted Swan Lake for Finnish National Opera, Cinderella for Scottish Ballet, Romeo and Juliet for Northern Ballet Theatre, and a production of The Nutcracker for the Norwegian National Opera in Oslo. His operatic repertoire includes the major operas of Verdi, Puccini and Mozart and Tchaikovsky as well as Tobias and the Angel, Carmen, Rusalka, Tristan und Isolde, Verbum Nobile (Moniuszko), A Life for the Tsar, Ariadne auf Naxos, and Gli Equivoci nel sembiante, Le Postillon de Lonjumeau (Adam), and Paradise Moscow. Companies he has worked for have included Opera North, Grange Park Opera, English Touring Opera, Oundle International Festival, Bampton Classical Opera, Chelsea Opera Group, European Chamber Opera, Opera de Baugé, London City Opera and the Ukrainian National Opera in Odessa.
He was awarded the Elgar Medal in 2017, the highest honour bestowed by the Elgar Society for the work to promote the British composer especially abroad. He teaches conducting at Trinity Laban Conservatoire and also teaches at the Royal Academy of Music.
https://www.alexanderwalker.org/
---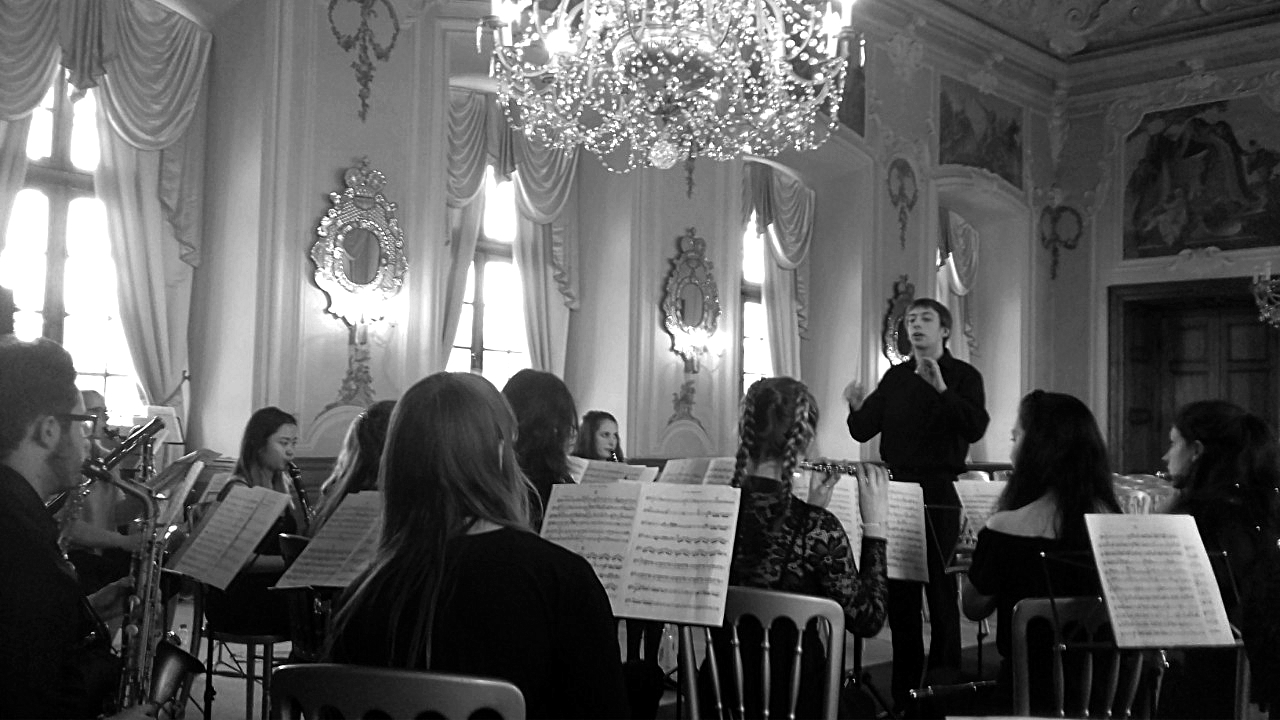 Assistant Conductor:
William Wilkins
Will Wilkins began playing at the age of twelve when he started learning the euphonium at school. He quickly fell in love with the instrument and soon become part of the highly acclaimed Northamptonshire Music and Performing Arts Trust. He eventually progressed to the very successful County Youth Brass Band, with whom he performed at prestigious venues across Europe. During his time with the band they placed 3rd at the European Youth Brass Band Championships.
In the summer of 2014 he was invited to join the prestigious National Youth Brass Band of Great Britain, under the direction of world famous conductor Bramwell Tovey. He performed with the band for three courses, and was also a mentor to the National Children's Brass Band, allowing him to work closely with their musical director, Professor Nicholas Childs.
He moved south in September 2014 to begin a degree in chemistry at the University of Southampton. After a year, he realised that this kept him away from his love of music far too much, and he switched courses to study music instead. He began the final year of this course in September 2017. This has allowed him to follow up a long-standing interest in conducting, and since April of 2016 he has taken on conducting posts with the university's brass band and symphonic wind orchestra, as well as the local Wilton & District Brass Band. SUSinfonietta is the latest addition to this list, and he is very excited to work with the orchestra in 2017-18.