Autumn Season Conductor:
Benjamin Oliver
Benjamin Oliver is a composer, conductor and pianist.
Since 2011 he has conducted the Workers Union Ensemble who have commissioned works for their unique line-up by many young (and older) composers, performed around the UK and recently recorded a work by Matthew Kaner for broadcast on BBC Radio 3. He has also worked with a range of professional, youth, amateur and student ensembles and orchestras including London Sinfonietta, Kent County Youth Orchestra and University of Leeds Union Symphony Orchestra. In November 2014 he conducted the premiere of Michael Finnissy's Remembrance Day, performed by students from the University of Southampton alongside members of the London Sinfonietta and Exaudi Vocal Ensemble. In February 2017 he directed 'The Loop Project' which featured Ivo Neame (piano), Jasper Høiby (bass) and Jon Scott (drums) performing alongside the HARTLEY Loop Orchestra.
Benjamin composes, in the main, contemporary instrumental music. More than fifty of his works have been performed and his music has been broadcast on BBC Radio 3. Performers of his music include Yshani Perinpanayagam (piano), London Sinfonietta, BBC Symphony Orchestra, Ensemble Paramirabo (Montreal) and Elizabeth Kenny (theorbo).
Ben is Associate Professor in Composition at the University of Southampton, and lives in Bitterne Park with his family and imaginary dog.
---
Spring Season Conductor:
Jonathan Lo
Hong Kong-born Briton Jonathan Lo is currently the Conducting Fellow of the Birmingham Royal Ballet (BRB), Principal Guest Conductor of the Xi'an Symphony Orchestra (China), Principal Conductor of the Manchester Chamber Choir and the New Bristol Sinfonia. A BBC Performing Arts Fellow in 2015 with the BRB & Rambert Dance Company, he continues to conduct for both companies regularly. He was a semi-finalist in the 2012 London Symphony Orchestra Donatella Flick Competition, and served as an assistant conductor for the Gabrieli Consort. In addition, Jonathan maintains his passion for working with young musicians through his work as Musical Director of the King's College London Symphony Orchestra and University of Southampton Sinfonietta. He was also Senior Lecturer in conducting at the Leeds College of Music and continues to teach privately.
Born in 1987, Jonathan read music at the University of Oxford, before going on to study conducting at the Royal Northern College of Music on a major scholarship, graduating with distinction and winning the Mortimer Furber Prize in conducting contemporary music. He has been fortunate to have worked and studied with conductors such as Sir Mark Elder, Jac van Steen, Koen Kessels and Paul McCreesh. Jonathan was appointed to his first music directorship whilst at university, when he was appointed to the Oxford University Philharmonia after winning the University's conducting competition aged 18. Since then, Jonathan has conducted orchestras internationally and nationally, most notably the Danish National Symphony Orchestra (Malko Competition), the Royal Ballet Sinfonia, the Rambert Orchestra, the London Sinfonietta, the Manchester Camerata, the Northern Chamber Orchestra, the Gabrieli Consort, the Cyprus Symphony Orchestra (Solon Michaelides Competition), the Xi'an Symphony Orchestra, the Fairey Band and the Orquestra do Algarve.
In the theatre, Jonathan has conducted performances of Swan Lake, Nutcracker and The Dream for BRB, Transfigured Night, Frames, Dark Arteries and The Three Dancers for Rambert Dance Company in most UK venues including Sadler's Wells, Wales Millennium Centre and the Lowry. The 2016/17 season will see Jonathan returning to BRB and Rambert, as well as working as a cover conductor for the Royal Ballet, Covent Garden. Equally comfortable in opera, Jonathan has conducted performances of Don Giovanni, Cosi fan Tutte (Oxford Opera), Der Schauspieldirektor, Die Zauberflote (Opera Lyrica, Oxford), Les Noces, Anna Bolena (Opera Seria, Manchester), as well as giving premieres of operas such as Amy's Last Dive by Cheryl Frances-Hoad. As Musical Director of the Manchester Chamber Choir, Jonathan has worked as chorus master for the BBC Philharmonic both in concerts, at the BBC Proms and in the recording studios. In addition to the choir's series of concerts, Jonathan also conducts them regularly for the Daily Service on BBC Radio 4.
---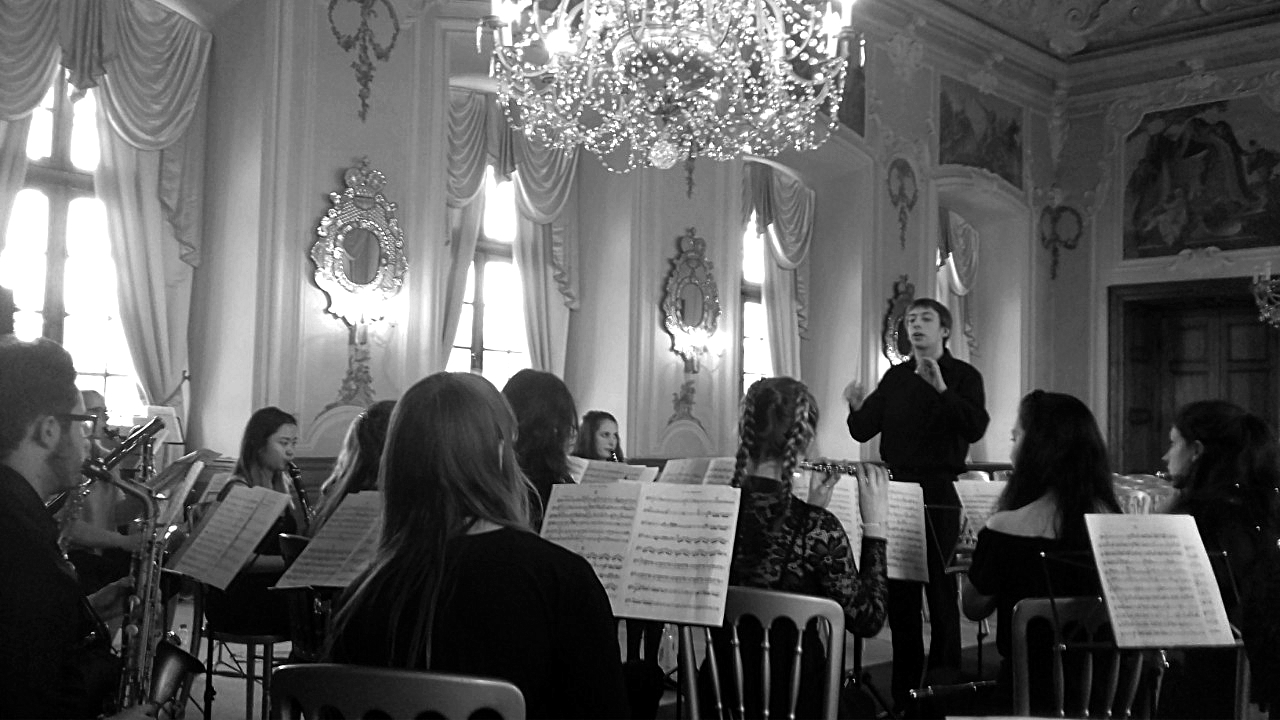 Assistant Conductor:
William Wilkins
Will Wilkins began playing at the age of twelve when he started learning the euphonium at school. He quickly fell in love with the instrument and soon become part of the highly acclaimed Northamptonshire Music and Performing Arts Trust. He eventually progressed to the very successful County Youth Brass Band, with whom he performed at prestigious venues across Europe. During his time with the band they placed 3rd at the European Youth Brass Band Championships.
In the summer of 2014 he was invited to join the prestigious National Youth Brass Band of Great Britain, under the direction of world famous conductor Bramwell Tovey. He performed with the band for three courses, and was also a mentor to the National Children's Brass Band, allowing him to work closely with their musical director, Professor Nicholas Childs.
He moved south in September 2014 to begin a degree in chemistry at the University of Southampton. After a year, he realised that this kept him away from his love of music far too much, and he switched courses to study music instead. He began the final year of this course in September 2017. This has allowed him to follow up a long-standing interest in conducting, and since April of 2016 he has taken on conducting posts with the university's brass band and symphonic wind orchestra, as well as the local Wilton & District Brass Band. SUSinfonietta is the latest addition to this list, and he is very excited to work with the orchestra in 2017-18.